Let's take you back a few years.
Both of us met at McGill University, where we pursued degrees in Dietetics and Nutrition (although we both grew up on opposite sides of Markham, a suburban city in Toronto). Throughout our years at McGill, we went from being strangers to dorm neighbours, from classmates to roommates, artisan fair vendors to being best friends and finally, the creators of Remix Snacks.
After a whirlwind of four years, we were suddenly in the final year of our degree, yet we knew there was one last thing we wanted to do before graduating: enter the McGill Startup Competition: the Dobson Cup. 
The beginning: obsessive testing phase.
After learning more about the abundance of food waste in Canada, and the lack of indulgent yet healthy snacks available in grocery stores, we started to conceptualize our first product. We knew that we could create a nutritious snack easily, but also dreamed of using imperfect fruits to reduce food waste. We started to test different recipes in our apartment kitchen in between classes and our clinical internships, trying to master the chocolate-tempering process and fruit-drying rotations, often waking up at 3am to rotate batches! We then had the first iteration of our snack, BeanBark. This is where chocolate met high protein, high fibre snacks.
We won two prizes at this ideation phase, and effectively launched Remix Snacks as an operating start-up, beginning our journey as entrepreneurs.
4 years, 3 kitchens facilities, over 12 iterations later.
1 more year, 7 taste tests, 1 production run later
We always knew Remix Snacks was going to be so much more than just a chocolate snack company. Our mission is to create healthy snack alternatives that everybody can love. Beanies was an idea made from our own personal cravings (perks of running your own snack company!!) and what people were asking for. Combine that with our mission of bean-based snacks and reducing food waste, and Beanies were born!
This is what we do. 
And so, as registered dietitians, we decided to go further beyond guiding clients to better health. We chose to create snacks to directly shape the food industry with healthier choices. Our double-sided mission is to strive to make simple, good tasting snacks for you, and the environment. To date, we've saved over 15,000 lbs of upcycled fruits, and continue to look for ways we can create a positive impact in the Canadian food industry.
The ying to my yang.
In terms of roles in the company, we each play into our strengths. Isabelle is task-focused, organized and tenacious. She takes care of the internal management at the company: production, finance, logistics and e-commerce marketing. Jamie is very design-focused, creative and innovative. She manages external relations: sales, distribution and retail marketing. Though we have our individual roles, we do complement each other well in times when all hands are needed on deck!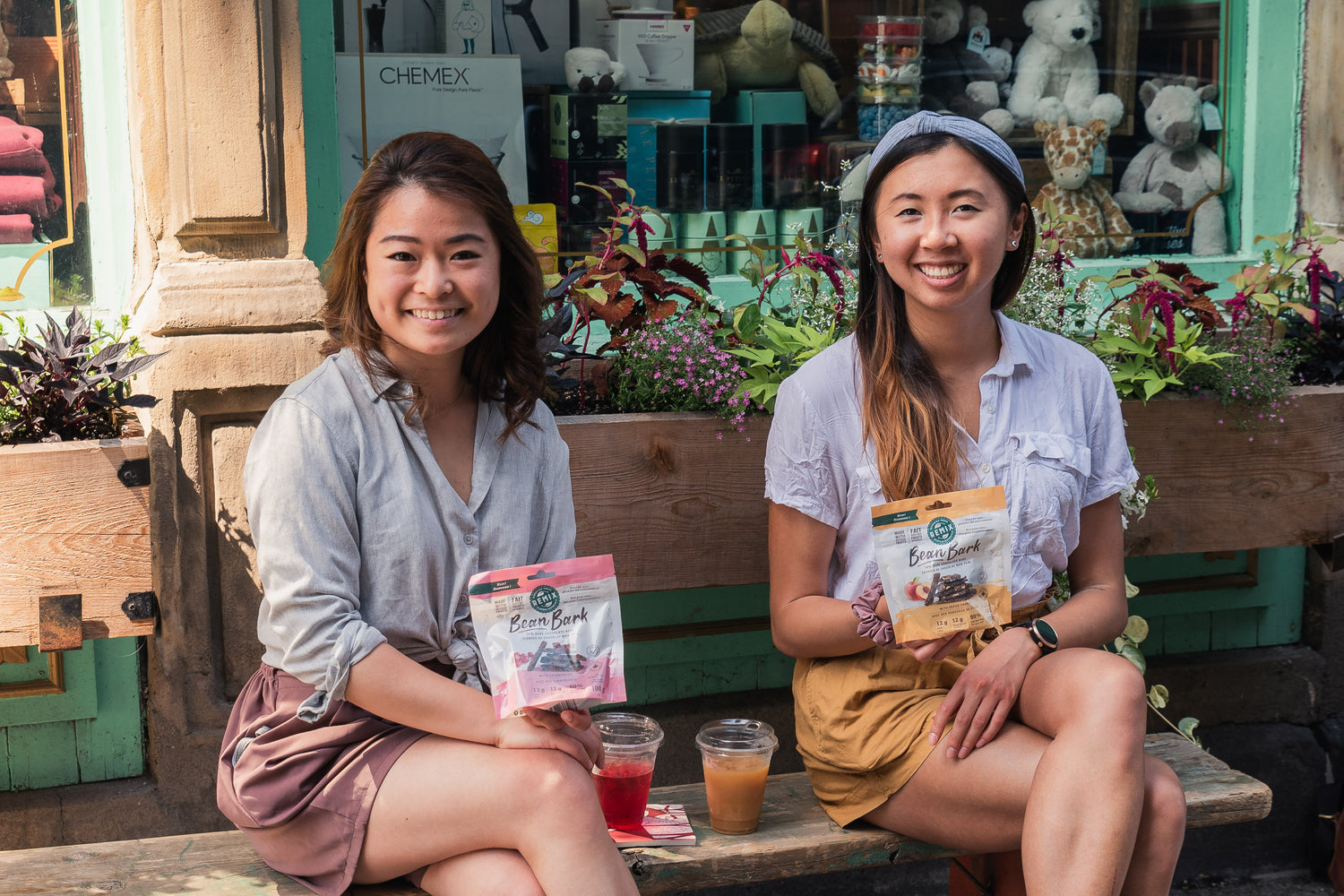 Let's keep in touch!
Thank you for learning more about us and we invite you to join us on our journey. We promise to commit to simple, good-tasting snacks that are good for you and the environment.It's the snack you've BEAN looking for !
Stay updated with our journey!